Vincent Icke's

Web Site

Vincent Icke's

Webstek
Room:

Huygens Laboratorium 516a

Telephone local:

5843

Telephone in the Netherlands:

071 - 527 5843

Fax in the Netherlands:

071 - 527 5743

Telephone from abroad:

+31 - 71 - 527 5843

Fax from abroad:

+31 - 71 - 527 5743

Mail Address:

Sterrewacht Leiden
Postbus 9513
2300 RA Leiden
The Netherlands
---
Escape Hatch

From here, you can go back to the Home Page of Sterrewacht Leiden



GNU Public License
Science is a funny business. Innovative science is autonomous, it rolls under its own steam; and yet science serves humanity, and doesn't intend to roll over anyone. The products of science should be freely available. To this end, I support the GNU Free Documentation License, which is an extended version of the GNU Public License for Open Source software. Excepting links to possibly copyrighted material originating elsewhere, the text and images on my website can be used freely, within the restrictions of this license (for example, they can be incorporated into GNU-licensed free encyclopedias such as Wikipedia). If you have a website yourself, please add a message like this to your own web pages to promote free access to knowledge (see Wikipedia's instructions).
---
Zwaartekracht bestaat niet
---
---
My activities in the arts have been bundled under the title Alien Art. If you're interested in finding out about the sort of work I do, you may click here. The web site is brand new, and more content will be added soon.
---
The Riddle of the Red Rectangle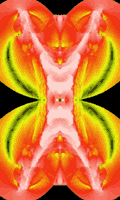 Press Release at the Hubble Space Telescope news site
Press Release on my own website
Theoretical Interpretation of Recent Hubble Space Telescope Observations
---



AAS Meeting 201

A small-screen video version of my paper Blowing Up Non-Planar Disks, presented at AAS Meeting 201 in Seattle (WA, USA), is attached here in QuickTime format.
See also the summary of this talk.



| | |
| --- | --- |
| | Pretty picture showing a spiral-wave disk blown up by a central stellar wind. An explanation is on my science page, where you may also find a movie in QuickTime format (10.1 Mb). |
---

Taalgebruik
Beste bezoeker: zoals je zult merken, is het merendeel van deze webstek in het Engels gesteld. Een deel van het materiaal bestemd voor het onderwijs en voor algemeen publiek is in het Nederlands. Ik heb geen tijd & geen zin om een volledig tweetalige webstek bij te houden.
---
Looking for a job?
If you are looking for a position as a graduate student or postdoc at Sterrewacht Leiden, please consult the current job listings of Sterrewacht Leiden or the NOVA job listings.
---
Links Within This Site

| | | | |
| --- | --- | --- | --- |
| Science | Education | Websites | Art & Media |
| Apple Macintosh | Outreach | The World | Management |
---
PDF Files
Many typeset files on my site are given in PDF format. To read these files, you need the Adobe Reader, which is freeware from Adobe Systems, Inc.
---
Leidse Professoren
Er is een webstek in aanbouw met gegevens over alle Leidse professoren. A website, still under construction, gives particulars about all professors at Universiteit Leiden.
---
Curriculum Vitae
Een kort curriculum vitae in het Nederlands vindt u hier. Those who don't read Dutch may click here for a miniature curriculum vitae in English.
---
Deze webstek verandert op veranderlijke wijze
Laatst gewijzigd op 01-05-2019
Sleutelwoorden: Astrofysica - Kosmologie - Hydrodynamica - Populaire wetenschap - Beeldende kunst
---
This Page Changes in Unpredictable Ways
Last Modified 01-05-2019
Keywords: Astrophysics - Cosmology - Hydrodynamics - Popular Science - Visual Art